Lets face it, lampshades are a necessity but they rarely get noticed! You don't have to settle for how they look right off the shelf (i.e. plain Jane). Why not have them be an enhancement than just a boring blank canvas next to the sofa! Here is a list of a few ideas we have put together for you:

1) Bleach Pen: If you start with a colored lampshade, you can paint whimsical designs using an ordinary bleach pen found in the laundry isle of your favorite super market. Work in small sections to avoid smudges. When the design turns white, rinse away the excess bleach. Let it dry completely before use.
2) Watercolors and Pin-pricking: If you start with a paper shade, you can use artist watercolors to paint simple and chic designs onto it. Let your imagination guide you. Once the artwork is dry, you can use a pin to perforate along the edge of some of the painted elements so the light can twinkle through.
3) Ombre: Start with a fabric shade. Mix a package of fabric dye according to directions. Submerge the entire shade in container deep enough to accommodate it. Set a timer for 10 minutes. Once your timer goes off, remove the shade and place it on an old towel or piece of wax paper. Poor off 1/3 of the dye and return the shade to the color bath. Set your timer again for 10 minutes. Once again, when the timer goes off remove the shade and pour off another 1/3 of the dye. Replace the shade and leave it in for a final 10 minutes. When finished, remove the shade and allow to completely dry before using it.
4) Spray Adhesive: Using spray adhesive, you can add comic book pages, maps, pages from your favorite novels, pieces of fabric, etc. The sky's the limit! Be creative as you personalize your lamp.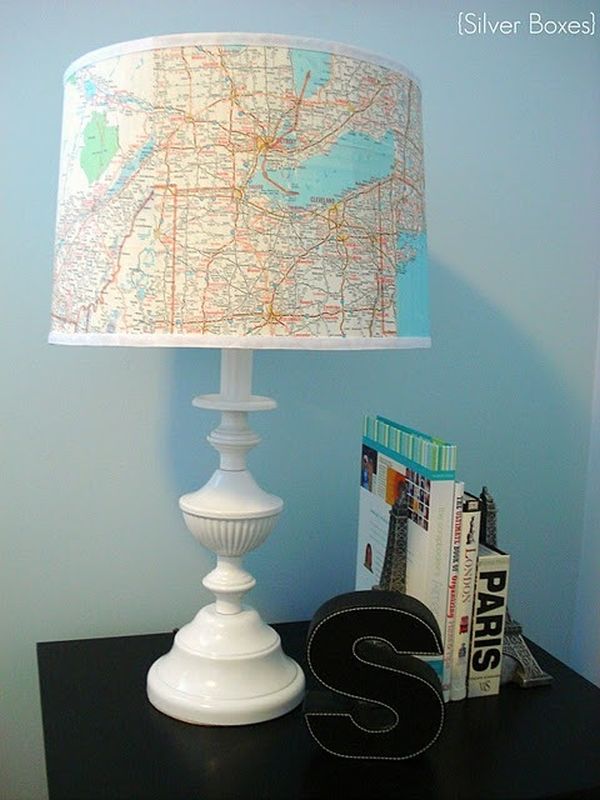 5) Ribbons and Rosettes: Using your trusty glue gun, you can embellish your lampshade with a row of sweet satin rosettes around the bottom. You can buy them at your favorite craft store. If you want a cleaner, more modern look try adding metallic strips or black patent leather trim to the top and bottom edges of the shade.
6) Paint Markers: Use opaque paint markers to draw geometric pattern or lines. Use your lightest color first, let dry and then use a darker color for outlining. You could also use these markers to write your favorite quotes, belief statements, poems, wishes, etc on the shade for a literary punch!
7) Buttons: Use hot glue to adhere a variety of buttons or plastic, magnetic alphabet letters (the brightly colored ones kids play with on the fridge) to your shade for a fun pop of color!
8) Satin Ribbon for your boudoir: Take wide satin ribbon in a color of your choice, anchor a piece inside using hot glue, and wrap your shape vertically. If your shade is conical, be mindful to overlap the top layers of ribbon as you wrap. Secure the end of the ribbon again using a dab of hot glue.